The high times of Lewis B. Toklas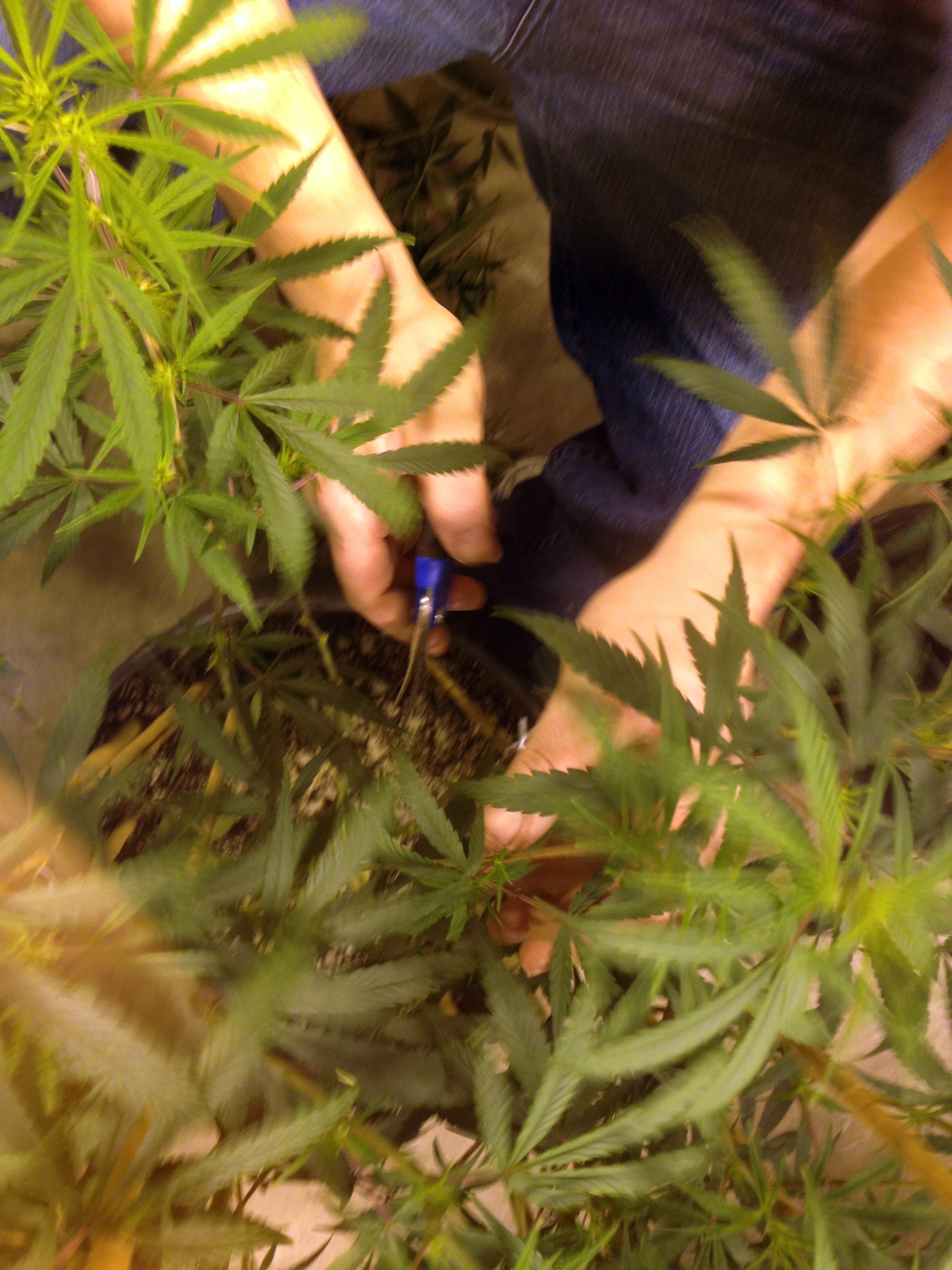 A day in the life of Lewis B. Toklas.
Lewis woke-up, rolled over, sat up and pushed a half-eaten bag of chips away from the computer screen, knocking an empty can of beer to the living room floor.
The flashing icon on the screen told him that "Medford Mantis" was ahead again, with "Slayer II" a close third.
"Take that damn wall down, rat bastard!"
Peeling a piece of tin foil away from a corner of the window he could see it was light outside, but couldn't tell if it was early morning or late afternoon.
It took hours to regain his status. When he was satisfied he picked up the bong and fumbled for a lighter that worked.
"Bong's dirty," he thought, dumping the water into the trash can by the futon. Looking around, he picked up a half-empty can of flat soda and refilled the bong with the warm syrup. "Whatever works," he said.
"What'll it be today, Durbin Poison or Cat Piss," he said aloud purveying the assortment of mason jars on the coffee table. "Actually, I think it's a pure Kush kinda day."
Lewis picked up a pair of old scissors from the floor and wiped them down with a sock sticking out from under his pillow. He then cut up a couple of buds and pressed a generous clump of green into the bowl.
After five bong hits he hit enter and starred at the computer screen. "Slayer II, die!" he yelled, pounding the keys and maneuvering the mouse in an attempt to regain points. "You will rue the day you messed with Lewis B. Toklas!"
Several hours later he paused, wiped the sweat from his forehead, downed the last swig of a warm beer and reached for the bong. The routine was the same. It had been 14 days since he last went outside, and three since he showered.
The sunlight coming through the torn piece of aluminum foil on the window told him it was, indeed, daytime. He felt hungry. A pizza box lay at the foot of the futon. Lewis nudged his cat away from inside the box, peeled back a slice from the cardboard, and held it to his nose. "Breakfast," he said, putting half the slice into his mouth at once. Pepperoni grease dripped down his chin, and he made a mental note to have another pie delivered.
His cell phone vibrated and flashed from under a pile of junk mail. The name on the screen was, "Bud Boob Girl."
"Hey, Boobette," he said, answering the phone in a flirtatious voice.
"Hey, Lew," she said, rolling her eyes – envisioning this trimmer/gamer in the hovel he called home. "You know I don't like to be called that, right?" she said, not really expecting an answer. "River wants to know if you can come help us this weekend," she asked.
"For you, yes - for River, no way. He's an asshole and he stiffed me last time. He said he'd pay half with bud, but it was fucking popcorn," Lewis lamented.
"Then do it for me? Pretty, please? We really need the help this time, Lew. I'll make sure you get some good bud, promise." she implored, knowing full well she'd have to sneak it herself from River's stash.
"Ah, alright. You are too cool to be with that guy, though. He's a tight-ass grower and I don't like him." Lewis said his goodbyes and tossed his cell phone onto the floor. If there was one thing he hated it was So Cal gangsters coming up here ripping people off and taking all the good bud - and piles of cash south.
He decided to head down the hallway to get a little work done. A doorway at the end of the hall led to the garage and his grow. After dumping the humidifier into the utility sink he began the tedious task of thinning out leaves.
"Fuck-it, good enough," he said after 20 minutes had passed. He stood up slowly. His back hurt from hours on the computer. Gnats were getting in his ears, nose and mouth, and it was time for a few more bong hits.
"Time for a series of serious bong hits," he said to his cat, now licking the inside of the empty pizza box.
He could see the icon flashing on the computer screen, but he was trying to ignore it. As if in a dream he went to the computer and hit enter. Slayer II had signed off. "Fucking Pussy," he said with disdain and sat back down for another round with a guy from Denmark.
Two hours later he reached for the bong and starred at his jars of bud, "Danes conquered! It's Herijuana time!" he said, reaching for the big guns, singing, "One toke over the line, sweet Jack. One toke over the line…"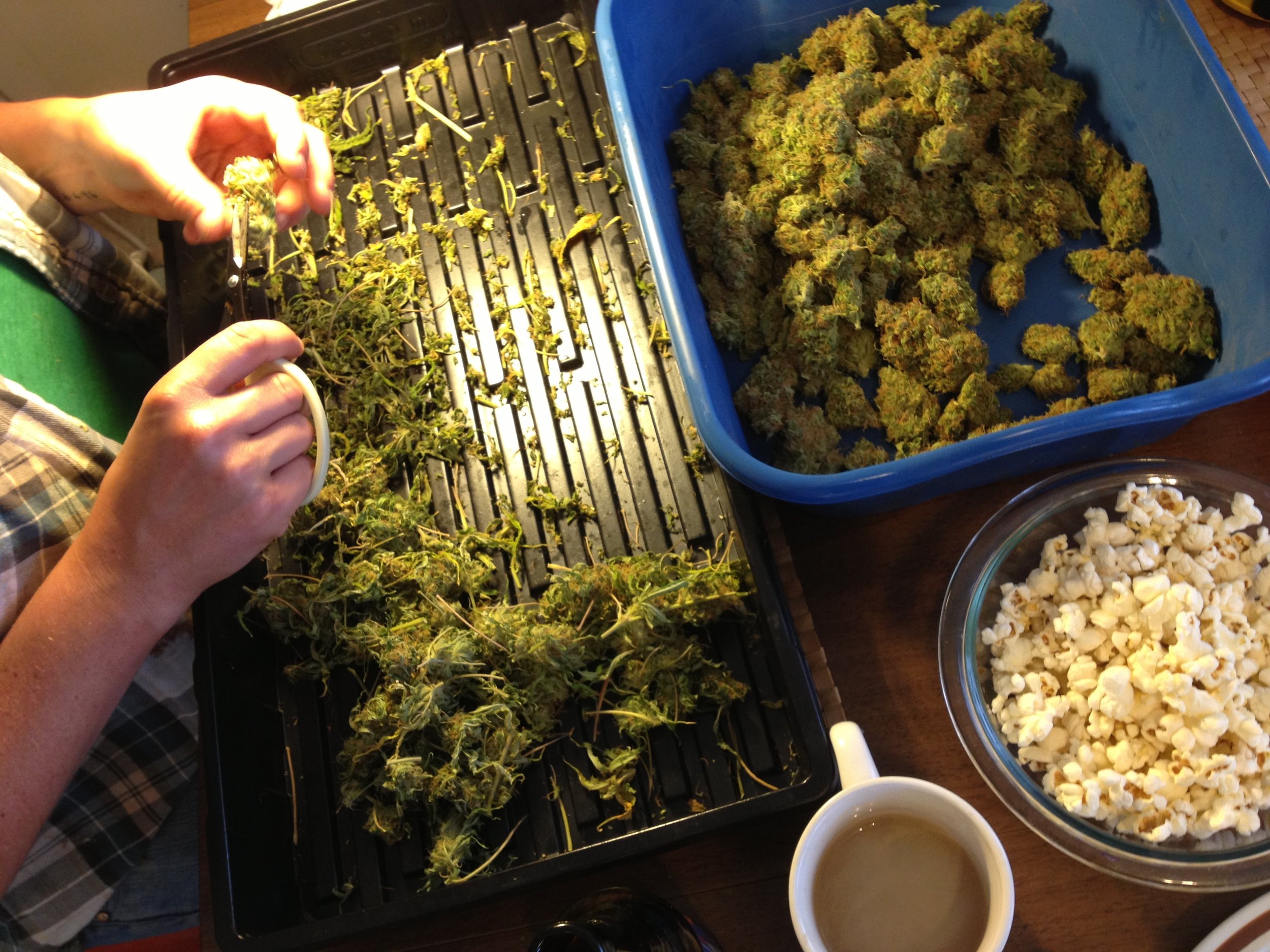 Lewis is duped by a group of bored trimmers.
Lewis B. Toklas was lonely. The grow house lifestyle kept him up late, inside, and without many options for finding release in his covert community of cannabis confidants.
His typical mode of operendi was finding a slutty video clip online to pleasure himself with, but it just wasn't the same as the real deal.
"Do one of those ads," a friend suggested, while helping flip a room. "You know the kind for hook-ups only."
"Is that for real?" he asked, pulling a large stalk from a pot of soil.
"Sure, people hook-up online all the time now, right?" another helper advised, while dumping the D-hum into the toilet in the back bedroom bathroom.
Nats and other debris swirled around the tub and made its way down the drain slowly as Lewis pondered his cyber options, reaching for the plunger.
Tedious Trim Circle
A group of twenty-somethings sat in a circle on folding chairs arranged on a sheet of plastic drop cloth. Each held a small pair of pruning clippers, trimming leaf from bud. A large pile of stalks lay in the middle of the circle. Netted, stacked drying shelves hung from the ceiling, nearly full of trimmed bud. Fishing line, tacked from corner to corner held dry stalks, ready for trimming.
"Lewis just posted on that casual sex site," a young man with a lap top said from the dining room table.
"How do you know it's him?" a young woman asked.
"He uses the same lame name he uses gaming, 'Jimmy Olson. It's from that old TV show, 'Leave it to Beaver," he said. "I don't know why he's posting this shit. Those women are fake, and, besides, no woman would want to have sex with an old guy like that. He's dreaming."
"How old is he? Can't tell by his house - looks like a teenage boy lives there," trimmer girl said, laughing.
"He's in his fifties," a young man said dumping another pile of branches in the middle of the group. "He was my Little League coach. What's going on?"
"He's posting to hook up for sex,'" the young woman said. "I don't know any women who post for sex. We can get it anywhere – no offense, guys, but that's the truth."
This admission was met with laughter, but there was also a healthy dose of disappointment detected on a few of the guy's faces.
"She's right," dudes think all they have to do is post of photo of their dicks and chicks will come running," a young man added.
"Right?" the young woman smiled. "And I'm sorry, guys, but the erect penis is only beautiful in the eyes of the beholder."
"The one-eyed monkey doesn't really do it for me," another girl giggled.
"The average dick is seven inches long – so don't brag to me how big your dick is, either," said another girl. "They are all the same. Just tell me you know what to do with my clitoris."
Howls of laughter filled the once silent room and the mundane work of trimming into the night was enlivened at Lewis' expense.
"Let's play with him," another young man said. "Send him a response."
This devious idea was met with more laughter, and just one protest.
"Dude, I've been on there before, don't do it. That's harsh," a young man said, dumping a pile of trimmed bud into one of the netted drying bags.
"A friend of mine posted an ad just to see what she'd get, and 50 guys sent her photos of their dicks in just a couple of hours. They were local guys too, guys she knew or knew of – half of them married guys. Not cool."
Laughter and jokes about Lewis B. Toklas, aka: "Jimmy Olson" circled the room, as the young man at the table downloaded a few pics from the Web of a random woman across the country and composed a note to the unassuming lonely grower.
Meanwhile, back at the grow house…
Lewis cut up bud, loaded his bong, and waited for responses. Soon a flood of porn spam filled his inbox.
"Damn, rat bastards," he said, taking a big rip.
Then he saw it… "Lonely Alone" was sending him a note.
Hello. Saw your ad and I feel the same way. Not a bar scene lady. Send a photo?
Lewis couldn't believe it. Attached to the note was a photo of a pretty, smiling face and the largest pair of breast he'd ever seen, seemingly attempting to free themselves from her way-too-tiny top - not that he was complaining.
"Thank you, Jesus!" he exclaimed, and quickly sent off a response.
Faking It
"He sent a photo!" the young man blurted out from across the room.
"Oh my God, I don't know if I can look at that," the young girl said. "I've worked in his room. Not sure if I want that visual stuck in my head!"
The photo could have been from anyone, from any site, but the those who knew the eccentric grower spotted tell-tale signs of Lewis' crash pad right away.
"You'd think he would have wiped the gnats off that table in the background before he shot his dick, right?" a young man said, firing up a fatty and passing it around the circle to more laughter and crass remarks at Lewis' expense.
"Hey that's my hoodie on the futon," one young man added. "Is that his cat in the pizza box?"
The man in charge of the charade was busy composing his response, but before he could, Lewis was already sending more fodder for what was fast becoming a night to remember.
"Better bring out that bottle of Tequila, Lewis just sent a video," he said to the group of trimmers, some with clippers and bud still in hand, now forming a circle around the laptop, peering over his shoulder, watching as Lewis pleasured himself for what he thought was just another "lonely lady."
"The thing is, we could be anyone. What a fool," the young woman said, returning to her chair, picking up another branch as the group settled down to the long night of supply and demand ahead of them.