Sister Kate of the Sisters of the Valley first realized cannabis as medicine after a doctor suggested it for menopausal symptoms more than 10 years ago.
Formerly a finance administrator in the corporate realm, Sister Kate became disillusioned with the ways of the world, initially entering the cannabis space as a dispensary owner when an ancient order of women from France inspired her to change her life forever.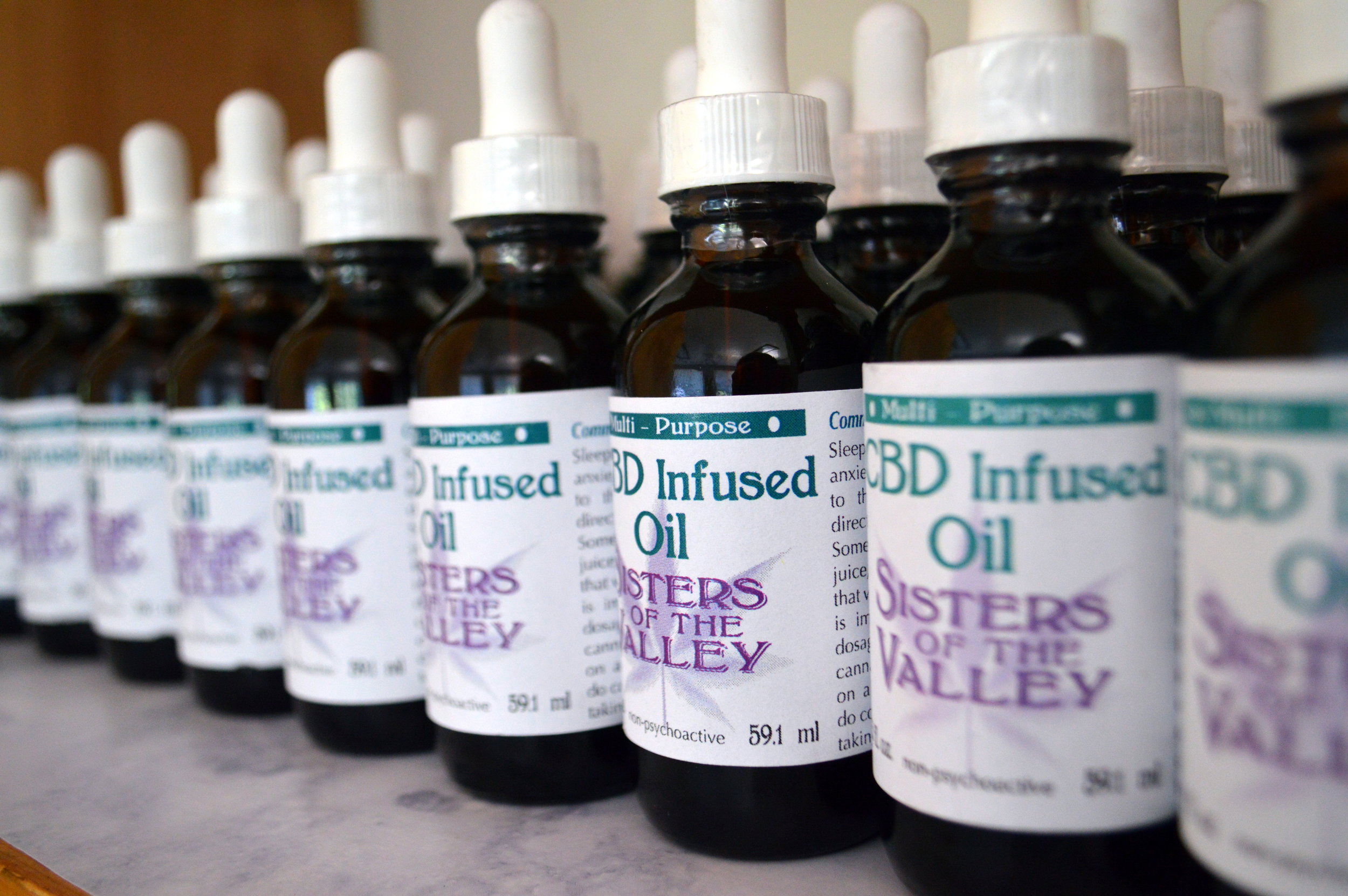 Sisters of the Valley make tinctures and salve from high CBD grown from cannabis.
"When I first read of the Beguines, that really connected me to an ancient way of life and I imagined we could replicate that way of life here," Sister Kate pondered at her desk in the Sister's Merced, California ranch compound. "I imagined that they were women like us – mature women who lived communally with their houses together in a centralized location. They worked together for the community and the greater good."
The Beguines were an order of women dressed in Habits, who served the communities of France from the late 12th through the 17th Centuries. Devoted to serving its communities, records show they were apothecarians or medicine makers. They also earning their living through the textile industry, weaving fabric, and making clothing - providing many services to the communities they served in often rural settings.
Sisters saging their work area before a medicine making ceremony on the farm.
"We can safely assume their garments and clothing made were from hemp," Sister Kate added with a wink. "And they were respected and allowed to own land. Men worked with them, but did not own property. We find that in ancient Native American cultures, too. It was the women who put down roots, stayed in one place, and cared for the community."
It makes perfect sense for the women of the world to be the nurturers, the caregivers. It truly does take a village – now more than ever, and a few beneficial plants in the proverbial pot doesn't hurt.
Like the Beguines, the Sisters of the Valley are not part of the Catholic Church, though they are religious. Unlike the Beguines, the Sisters have created their own vows to live by.
Medicine making ceremony on the farm.
"We are required to have six vows," Sister Kate informed. "A vow of servitude – which is making medicine with the cannabis plant, in serving the people; a vow of the moon cycle, as we make all our medicine within this cycle; a vow of ecology, to protect the earth; a vow of activism, to protect the plant and access to it; and a vow of Chasity, though we don't believe you have to be celibate to be chaste."
The Sisters are celibate during the moon cycles and medicine making sessions, which are performed as a sacred ritual, with sage burned in an initial cleansing of the work space, candles lit, and meditative music playing softly in the background. Their actions during the ceremony are purposeful and respectful to the plant. Likened to a Japanese tea ceremony, the bud and materials are poured into each vessel in one fluid movement.
The successful operation's path to righteous medicine making has not been easy. Wrought with stumbling blocks along the way, as its County of Merced in the heartland of California, banned the cultivation of cannabis last year.
Sister Kate's corporate savvy came in handy as she fought back, proving to the county (and its local U.S. Post Office) that it's CBD (Cannabinoid) only strains measured in at or below the required 0.3 percent for activated THC, allowing them to call it hemp and ship product across city, county and state lines.
This use of semantics was put into play by the Department of Agriculture in 2014 on the heels of Charlotte's Web fame and help for children with epilepsy. Though the new rule further adds confusion to products made from industrial hemp with low CBD ratios, it gives a green light to CBD only makers from cannabis, allowing them to continue helping the masses.
The Sister's tincture, salve and lip balm are made with the highest quality organic CBD cannabis strains, available via its shop on the popular site, Etsy; and via its web site, Sisters of the Valley.
"We are healers," Sister Kate continued. "We heal with the medicine we make and with our words. We heal when we tell someone who was just raided and lost their job in the cannabis community, 'you are right, and they are wrong.' We heal when we contribute positively in the world. This is God's plant and we are doing His good work. People are healing and that's really all that matters."
For more information on Sisters of the Valley, visit the following links:
http://sistersofthevalley.org/
Oil Angels
People helping people with a plant
Author's Note: This story was originally published in Dope Magazine, August 2015.
This story is dedicated to all the medicine makers who are in hiding, healing friends, family, and loved ones in the face of persecution.
Once you know about the healing powers of cannabis and other plant-based medicines, it's hard to sit on the information. A conversation in the grocery line can turn into a life-saving quest as strangers share health woes about themselves or loved ones. It's a common occurrence for this writer who feels compelled to evangelize the plant whenever an opportunity arises. It's not a zealot's obsession, as some might assume, it's a calling to help with real knowledge based on personal experiences, facts, and science.
The recipe and protocol for the strong cannabis oil Rick Simpson (Cover Story: Dope Magazine, July 2015) re-created some 15 years ago has been shared word of mouth only around the world for just as many years.
Sixty grams in 90 days is the treatment said to put cancer and other serious ailments into remission. Those brave enough to shun traditional therapies such as chemotherapy or radiation, doing away with pharmaceuticals often accompanying laundry lists of negative side effects, soon realize the power of the plant.
But there is a paradox, as the success stories are at once celebrated by believers, and dismissed as anecdotal by the powers that be. With real trials and studies promised on U.S. soil, the truth is still yet to be told – or officially discovered. Until then, the recipe and protocol continue to be shared via word of mouth only.
Mr. Simpson encourages everyone to make their own oil, for safety and accuracy in numbers. But we are a species who has traveled far away from the garden, let alone the kitchen. Procuring the one pound of plant material to make the 60 grams needed for one 90 day treatment is daunting enough in itself, actually producing the oil made with solvents is a whole other conundrum, as it's highly flammable and precautions must be taken in a responsible manner.
As for the legalities of making the oil, laws vary from city, to county, to state, and differ on whether you can make it at all, let alone distribute it. Most jurisdictions lump it into a "concentrate" category (which it is), with hardly any making the distinction from, say, recreational smoking oil made with butane. Albeit, California, via a State Court ruling early 2015, in El Dorado County (Sacramento adjacent) wherein a man's charges of possessing poundage and oil were dismissed. He was able to prove the oil was a necessary medicine, making California the first state to recognize it as such.
The work of the advocate is not easy, but the rewards are great, with lives saved daily if it's done right. There are only a handful of "Oil Angels" who wanted to step forward for this feature. For each one here, there are dozens more volunteering tirelessly, sharing information, dispelling myths, and changing minds.
The following named medicine makers/caregivers do not make, distribute, sell or give out the oil. They are there to help, sharing links and information when they can; spending countless hours talking people through the process, and helping them with what to expect, while changing the stigma surrounding the plant, daily.
Rhea Graham, Albany's Canna Kitchen, Albany, Oregon
With more than forty items on its menu, patients signed up with Albany's Canna Kitchen bring in their own plant material and the kitchen does the work. Infused peanut butter, cooking oils, real medicine taken in capsules, and the strong oil used to put cancer and other ailments into remission can be made on order. Graham said the kitchen just received its first patient with cancer who is shunning traditional therapies of chemotherapy and radiation, and only taking the oil.
Other patients have done traditional therapies along with the oil, but have not fared well, according to Graham. One elderly patient was told she only had up to six months to live. She did not want to do any traditional therapies and just wanted to be comfortable. Graham said they made her comfortable for 18 months – a year longer than expected – and she passed in peace, using the oil as her only end of life care pain relief.
Graham said using cannabis for end of life care is a "gentler way to go," as it does not disrupt bodily functions as most pharmaceuticals do, namely helping bowel function, appetite stimulation, and pain relief, while allowing the patient to be more alert.
She added, in regards to those doing chemotherapy, topical cannabis salves give great relief to sores that develop on the skin during treatment. She also recommended suppositories, especially for those suffering from Prostate or anal cancer – putting the medicine where the cancer is, with little to no head high typically associated with the strong oil.
Marilyn Jane, Las Vegas, Nevada
After adopting seven children Jane was diagnosed with Inflammatory Breast Cancer, a rapidly growing cancer that is typically at stage three or four when found. Misdiagnosed for four months by 11 different surgeons, Jane was told it was just an infection – she herself deducted cancer, and due to her "tenacious" personality, she asked to see a dermatologist who did a biopsy. Within a week she was in chemotherapy.
Over the course of a year she had a double mastectomy, another chemo treatment, and radiation. Jane said she took Chinese herbs, did acupuncture, and changed her diet to organic.
A longtime "pot smoker," Jane said at the time cannabis was not considered medicine in her state yet, and certainly not known to help with cancer, aside from helping with nausea and waste away disorder via smoking. Fearful of a re-occurrence, when Nevada became medically legal she began growing, making medicine, taking it herself as prevention, and helping others.
When her brother was diagnosed with Hepatitis C he took the oil and put it into remission. Other's ailments she's helped put into remission include, liver cancer, lung cancer, a dog with arthritis, and a chicken with tumors. You just can't make this stuff up, the plant does not discriminate.
Jane Smith, Seattle, Washington
Suffering with chronic pain for years, Smith found out about ingesting cannabis to relieve her symptoms from Fibromyalgia, and began making medicine with great success. Soon she was sharing her recipes with others and helping many. When Washington State legalized, medicine makers were already setting up tables at farmers markets, sharing medicine and healing.
Most of the medicine makers this writer met admitted to making the medicine since the 1970s or later, but did not feel safe to come forward until now. But legalization in Washington gave jurisdiction to the government agency of Alcohol and Tobacco, making it impossible for state run dispensaries to even mention the word medicine, let alone suggest various methods to ingest and why.
Closed collectives, wherein a farmer/caretaker was supported by the members signed up for medicine, are a thing of the past, leaving medicine makers such as Jane wondering what to do.
Jane said the limits on plant count alone make it nearly impossible for her to have enough plant material on hand to make the oil she needs to keep her own pain at bay, let alone help others. In her mind the black market will be alive and well in Washington, but for all the wrong reasons – it will continue for patients with real needs.
Jacqueline Spruce, Director, Cannabis Science Australia (CSA)
In December of 2007 Spruce said she was diagnosed with yet another Basal Cell carcinoma located on her right cheek. She had been down this road before and was uncomfortable with the thought of a scalpel incising her face.
Seeking other opinions, she eventually met a Swiss nurse who led her to Rick Simpson's "Hemp Oil Extract," as it was known then. Initially she was apprehensive, as she had never participated in "the taking of cannabis in any form," but his video was compelling, and she thought she had nothing to lose and everything to gain.
Using the oil topically she had no fears of "getting high every day," and began applying the extract daily. Within two weeks the cancer retracted, with a biopsy showing it completely gone.
Since that event she's had a few other cancer scares on her face, all helped with the oil.
Today she continues to advocate for the plant and the oil, stating, "With thousands of scientific articles being published all over the world on the various aspects of the cannabinoids (CBDs), it is little wonder our scientists are frustrated with the current medical model."
Janet Sweeney, Ph.D., Colorado Springs, Colorado
Phoenix Tears Foundation Director Janet Sweeney, Ph.D. holds degrees in Electrical Engineering, Biology, and Theology.
Her foray into cannabis as medicine began in 1976. When Colorado legalized she became an active participant, attending legislative sessions and networking with other activists in the state.
In 2009 Sweeney teamed up with Rick Simpson with the intent of "demystify" the world of plant extracts, with the loftier goal of helping people get through the THC effects, or psychoactive properties of the strong medicine. (Rick Simpson is no longer part of the Phoenix Tears Foundation.)
Her discovery that "Citicoline" can mitigate the effects has been huge, with many helped by being able to take larger doses.
Over the years Sweeney said she has witnessed full recoveries from almost every type of cancer, AIDS, Parkinson's, Multiple Sclerosis, Lupus, Fibromyalgia, flu mitigation - the list is a long one.
Currently, the foundation is working with the country of Columbia to do human studies with the oil. To prove the point this is a calling, with all the help she's given already, the foundation is still looking to the future, and are in research and development with a topical cream that Sweeney said, "flattens out and seems to disburse many breast tumors."
Also in the works are protocals for high blood pressure, diabetes, and help for severe burns where skin grafts don't take. "This is just the beginning," she said, knowingly.
Corrie Yelland, Brittish Columbia
Phoenix Tears Foundation co-founder, Corrie Yelland, is the darling of oil angels on social media, admittedly spending hours every day talking to people around the world about its healing properties, where to find oil information, and talking patients through the often challenging process of dosing.
After a diagnosis of anal cancer in 2011, with two failed surgeries to get the cancer out, Yelland was told spinal damaging radiation treatments were necessary.
Already suffering four years with chronic pain after a heart attack, with prescription meds failing, Yelland was at the end of her proverbial rope when she came across the Rick Simpson story, "Run from the Cure," and considered making the oil herself.
When she told her oncologists he murmured something about a "death wish," and left the room in a huff.
Yelland, who hadn't taken a puff of weed since her late teens, paid close attention to the step-up dosing instructions, getting used to the THC gradually. Two weeks into the oil treatment the pain that had plagued her for four years literally stopped. She initially took the oil orally, and then made herself suppositories.
After just two months into the 90 day treatment of 60 grams of oil an attending physician in an unrelated procedure told her he could see no cancer. Six months later it was confirmed by her oncologist she was in remission.
The oncologist, who was never on board in the first place, actually performed two biopsies out of disbelief, finding only scar tissue. Today Yelland has witnessed many more ailments than cancer being put into complete remission, and believes there is little to nothing the oil can't fix.
References:
Albany's Canna Kitchen www.cannakitchenandresearch.com
Americans for Safe Access www.safeaccessnow.org
Cannabis Oil ruling, California, Sacramento Bee www.sacbee.com/news/local/article4708713.html
Patients out of Time www.patientsoutoftime.org
The Phoenix Tears Foundation www.phoenixtearsfoundation.com
Rick Simpson www.phoenixtears.ca